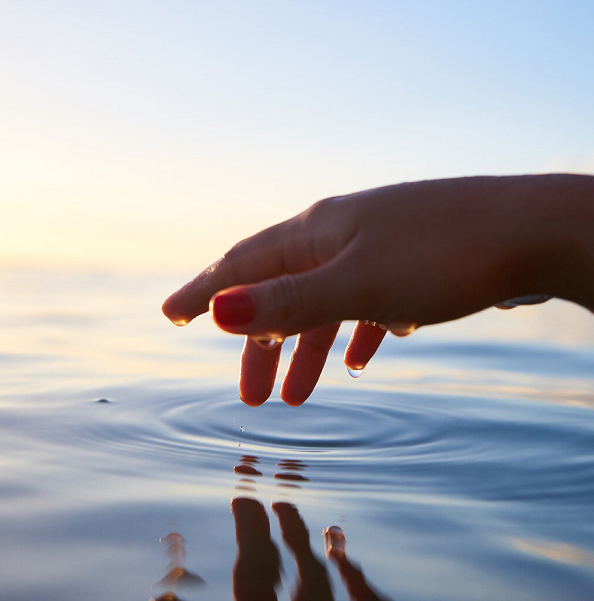 "Every bit makes a difference."
Seema Desai
Co-Founder & Managing Director, Bitwise
Founder & Managing Trustee, Bitwise Foundation
Bitwise is, at the core, its people. Like every innovation we achieve, and every challenge we overcome, the Foundation at Bitwise too began with Bitwisers enthusiastically coming together with the objective to collectively do "our bit". In today's fast-paced world, trying to actively give back can be difficult for an individual despite the desire to contribute to a cause. Bitwise Foundation was started with the intention of providing people a platform and to create opportunities to give back to society.
It is a matter of personal pride for me, that we took the initiative in giving back when Bitwise as a company was very young, and well before the government mandated businesses to undertake CSR programs.
The creation of the Bitwise Foundation in 2008 was simply an organic progression to formalize and encourage these efforts, and provide them with corporate support. Through the Bitwise Foundation, we have been working to contribute towards improving and enhancing the quality of life of the under-resourced sections of society and helping them become self-reliant.
Bitwisers, through the foundation initiatives, have been actively engaged in a range of causes by offering sustainable help with a focus in Education and Human Welfare, in collaboration with our NGO partners. Our impact stories span from helping the marginalized members of the society to raising environmental awareness internally and externally through active volunteering, fundraising, and leveraging our technical expertise.
The volunteering initiatives for Bitwise Foundation programs have not only given Bitwisers the satisfaction of bringing positive change but it has also brought all of us together with a renewed understanding of how our values of Open-mindedness, Excellence, Compassion, Mutual Respect, Ownership, Integrity, and Belongingness are important in our professional and personal lives.
I look forward to seeing Bitwisers, both past and present continue to derive satisfaction and motivation from their compassionate community work. I would like to express my gratitude to every single Bitwiser for setting the bar high, and I know that future Bitwisers will only raise it higher with a strong sense of social responsibility. Bitwise Foundation would not be what it is today without the inspirations and contributions of our NGO partners, our Customers, and the entire Bitwise community.
This is just the beginning, and we will continue to do our bit in contributing to a sustainable future by staying true to the Bitwise culture and our values.
OUR JOURNEY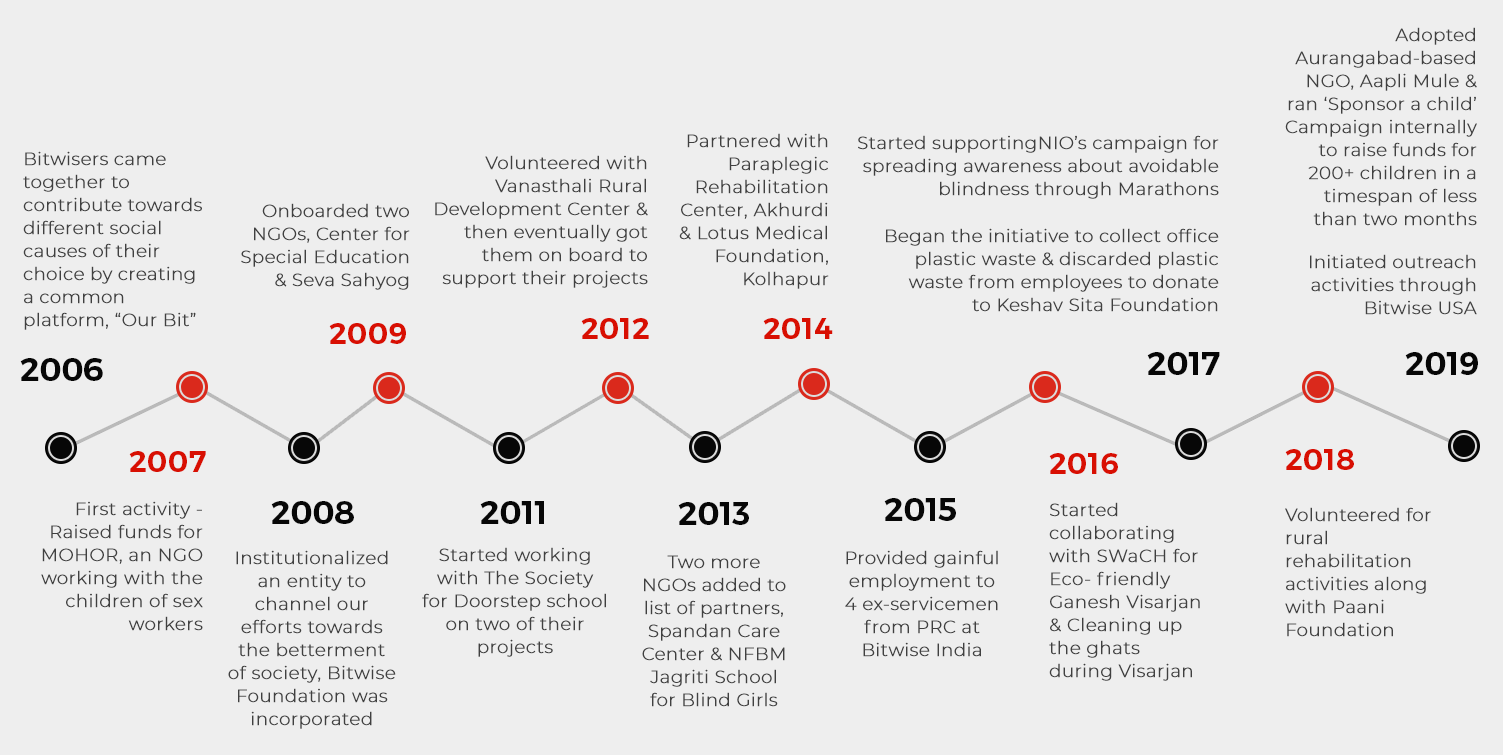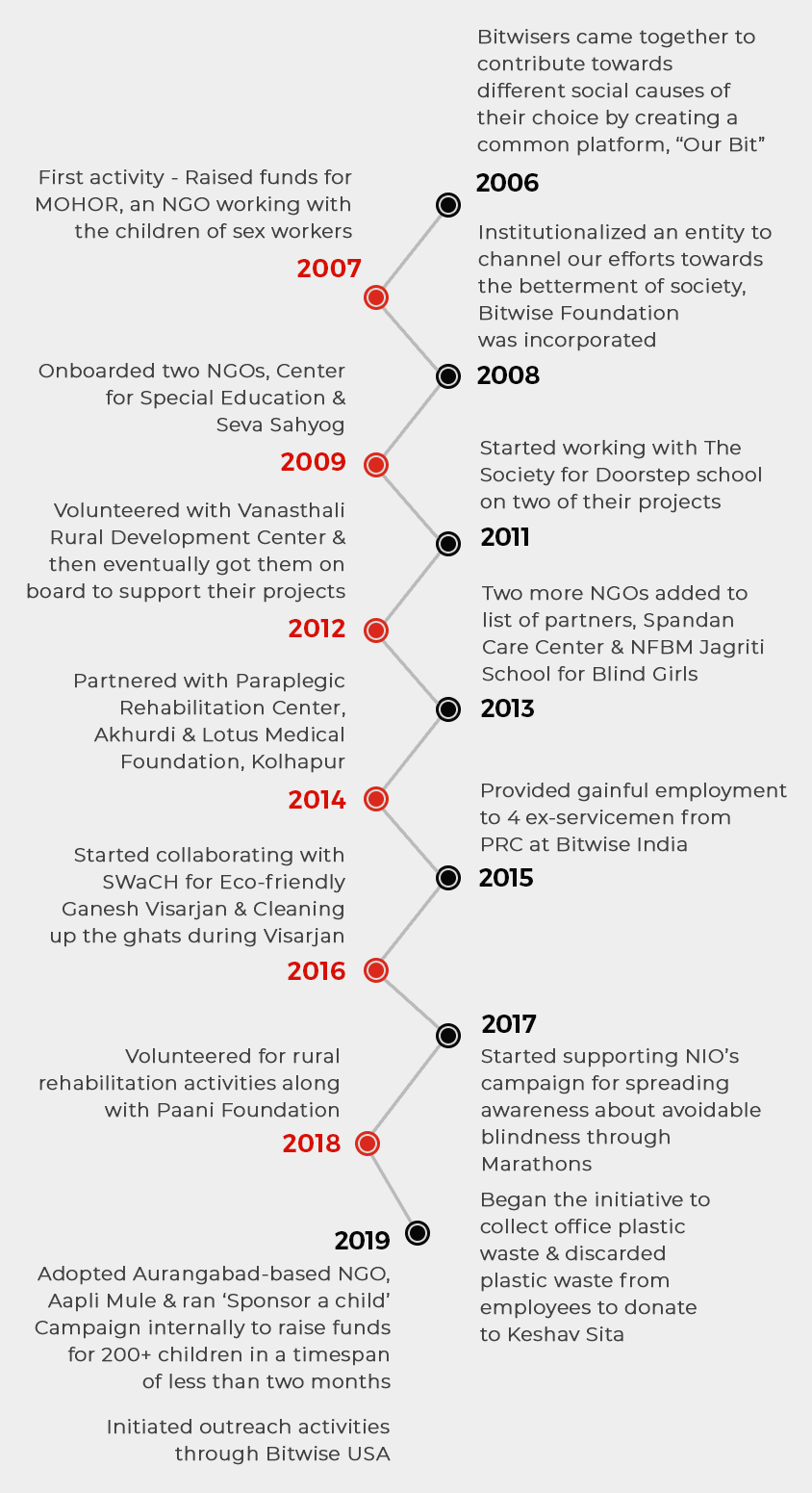 FINANCIAL SUPPORT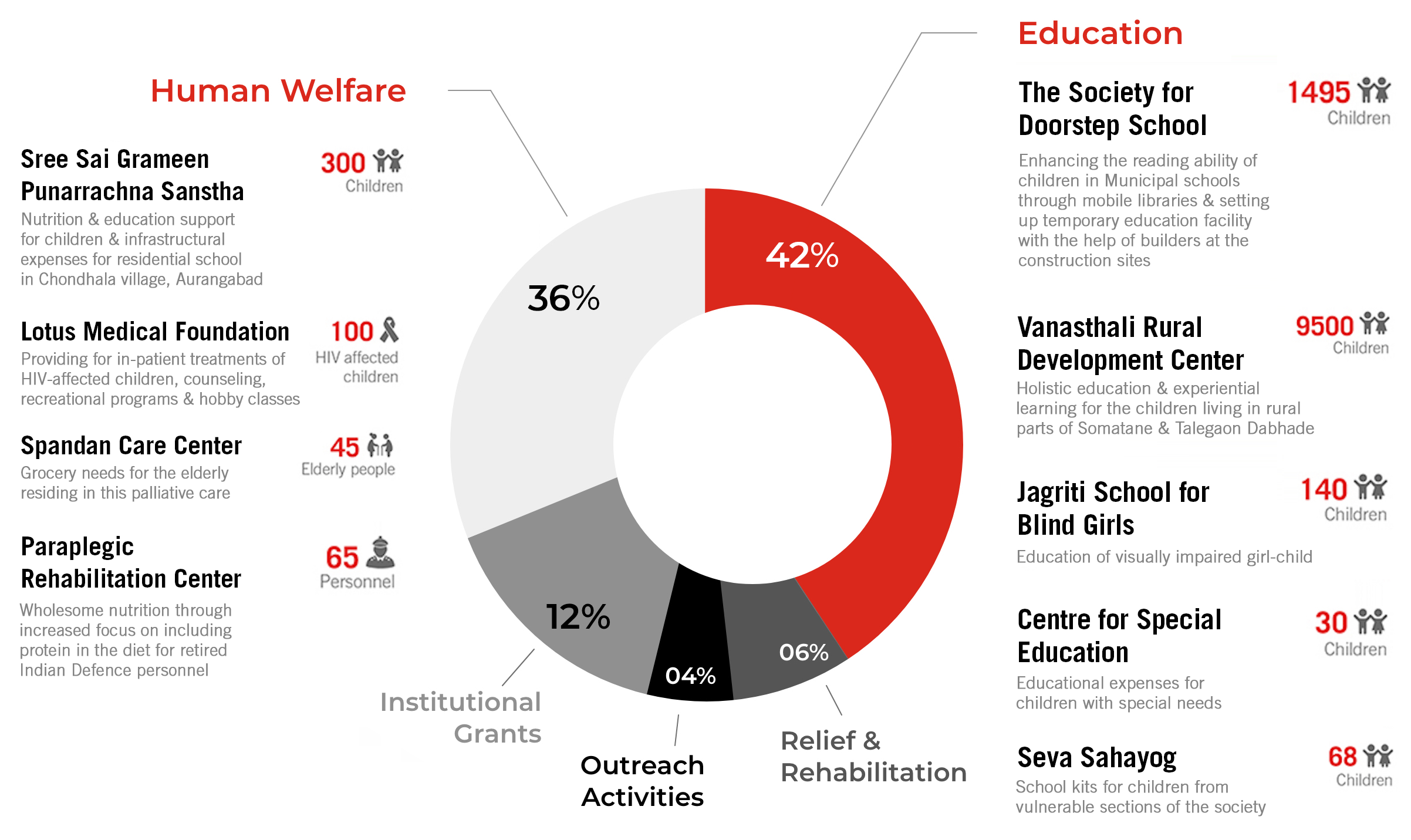 OutReach 2019-20