Helping our clients solve their most complex problems
I want to analyse past behavior and predict future trends to make better business decisions.
I need to modernize our BI and analytics capabilities using the latest machine learning and artificial intelligence technologies.
What it takes to successfully develop an Advanced Analytics competency
Modern Technology
Accelerate traditional analytics with modern technology
Leverage latest technologies for Self Service Analytics, Statistical Analysis, Data Visualization, Predictive Analysis, Data Mining, Artificial Intelligence and Machine Learning.
Implement modern BI products to meet reporting, analytics and visualization requirements.
Use proven Agile / Scrum Methodologies.
Ease of Access
Use modern analytics solutions to connect to your data anywhere on any platform
Build analytics capabilities for cloud, on-premise and hybrid solutions across desktop, mobile, tablet and voice-enabled devices.
Provide the information users need in the appropriate format so that their time is effectively spent on making accurate and timely business decisions.
Focus on continuous integration / continuous delivery (CI/CD) and automation.
Speed to Market
Build more intelligent analytics that require less time and effort
Proven solution accelerators and frameworks increase productivity, decrease total implementation cost and improve time-to-market.
Standard coding guidelines and best practices provide an efficient solution with optimal performance.
Migration and consolidation frameworks speed up re-engineering of legacy reporting to modern tools.
Building your Advanced Analytics Competency with Bitwise
Bringing niche experience in predictive analytics modeling and big data management to help you successfully build your Advanced Analytics competency
Proven Analytics Experts
Extensive experience developing innovative machine learning processes.
Full-Scale Offerings
End-to-end Business Intelligence implementations including data warehouse design, report development and support, analytics, advanced analytics, and visualization.

Accelerated Methodology
We have the expertise, in-house built accelerators, industry partnerships, training and proven approach needed to help you succeed.

Technology Leadership
We align the business requirements, use case, platform identification, tool evaluation and resource requirements needed to implement advanced analytics capabilities.
Bitwise Analytics Solutions
Bitwise offers a complete set of analytics solutions to modernize your decision-making capabilities leveraging cutting-edge technologies and proven methodologies.
Solution Areas

Data Science consulting services, implementation roadmaps and technology migration & upgrade strategy

Enterprise Data Science solutions including end-to-end analytics implementation and analytics as a service
Big Data Solutions for big data explorative data analysis, big data analytics, and data visualization and analytics

Enterprise Analytics Maintenance and Support
Intelligent Predictive and Prescriptive Analytics
Business Process Optimization
Modern Data Analytics, Embedded Analytics, Self Service Analytics
Collaborative Business Intelligence
Voice-Enabled Analytics with Conversational UI
Business Application Modernization
Mobile BI
Big Data Analytics
Natural Language Processing (NLP) & Natural Language Generation (NLG)
Augmented Analytics using ML and NLP to Automate Data Preparation and Enable Data Sharing
Advantages of Bitwise Analytics Solutions
Take the guesswork out of artificial intelligence and machine learning implementation for your business
Better leverage data to enable business insights and maximize competitive advantage
Develop an advanced analytics competency faster than otherwise possible
Modernize traditional reporting and analytics to provide an enhanced user experience for your analysts, business leaders and customers
Ready to build an AI solution?
Contact us to discuss your analytics use case.
'Bag of Models' Approach to Machine Learning Deployment on Cloud
Traditionally, multiple models (like Decision Tree, Random Forest, Support Vector Machine, Logistic Regression) are trained and then compared to choose the best performing model. However, the best model selected on the basis of performance metrics (like accuracy, confusion matrix, Cohen's Kappa, A/B Test, ROC Curve) after training and validation at development may not remain the best choice with the changing data pattern at production.
In order to get the best predictions as each batch of production runs with minimum production support, Bitwise proposes a 'Bag of Models' approach to machine learning deployment on cloud.

Gather, clean, combine, structure and organize data from different sources by using statistical data analysis techniques

Split dataset for Training and Validation model, train the model, tune hyper parameters of best performing model and calculate accuracy metrics

Predict result for future data using Champion Model
Select the best performing model as Champion by comparing accuracy metrics and others as Challenger models

Validate prediction result of previous execution and update the reference to point to champion model

Execute Bag of Models for latest predictions and store their results for validation. Then use champion model result for presentation
Development Framework

---
Champion Selection Framework

---
Prediction Run in Production Framework
Advantages of 'Bag of Models' Approach to Machine Learning Deployment
High-accuracy models selected using metric comparison
Automated performance check and selection of best model's score with every production run
Periodic notification of model performance and intimation of retraining
Reduced maintenance cost

Predictive Maintenance
Use machine learning models on IoT device logs to predict the probability that a piece of equipment or any device fails in the near future

Improving Marketing Conversion Rates
Improve marketing efficiency and increase user conversion rates using machine learning algorithms with historical data, clickstream, CRM and other data sets.
CLICK HERE TO KNOW MORE
Can't find your Use Case?
On-Demand Webinar
ETL Migration to AWS Glue Simplified
Organizations on a digital transformation journey are modernizing core…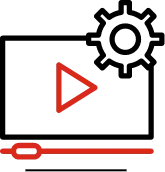 Bitwise provides comprehensive solutions for all your data projects
Cloud Solution
Cloud Data Migration
Expedite your data migration from legacy database applications to the cloud with our ready-to-go Cloud Migration Roadmap
EXPLORE
Cloud Solution
Application Modernization
Get the optimal approach to application migration so that you can successfully modernize your application on the cloud.
EXPLORE
Data and Analytics Solutions
Data Warehouse & Business Intelligence
ETL testing is essential for data validation to ensure accuracy when transforming data sets from multiple.
EXPLORE
Ready to start a conversation?