"An organisation without Business Intelligence bears a striking resemblance to a ship without a rudder"
Martin Butler
Over the last two decades organizations have widely used the data generated from internal and external sources to derive intelligence that would help them grow and gain competitive advantages. According to the 2013 technology report by Gartner, 'Business Intelligence & Analytics' is the number one priority for CIOs to address. Yet many organizations are struggling to implement strategic BI initiatives that can help enterprise-level access to information which will support business growth.
The term 'Business Intelligence' has multiple facets and its implementation can be challenging considering the time and cost involved. Thus it becomes important to ensure its successful implementation and the value it is generating.
Based on BI implementation project experiences, there are 5 key areas, if focused on, would enable you to nail the BI implementation and help maximize its value.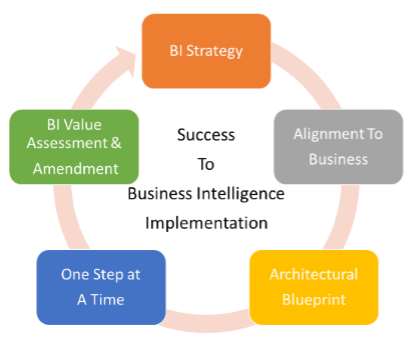 What to Explore
1. BI Strategy
Organizations need to have a vision before they set themselves on a BI journey. Laying down a BI strategy with answers to below questions would help bringing clarity to this vision:
What are the expectations from the BI implementation initiative?
How are these expectations going to be achieved?
Who will be the stakeholders?
Along with these answers, BI strategy needs to identify metrics and KPI's that align with the corporate strategy and objectives (e.g. Increase Customer base, Increase Customer Satisfaction, 3600 Customer view, etc.). It should also contain a comprehensive approach describing the current and future behaviour of processes, technology, people and other components due to this implementation. The BI strategy should be treated as a living artefact and needs to be constantly tuned and adjusted to reflect the needs of the business.
2. Alignment to Business
"Without business in business intelligence, BI is dead"- Gartner
As per Gartner, fewer than 30% of business intelligence projects meet the objectives of the business. Thus, unless there is clarity, and buy-in on the BI initiative program throughout the org chart, organizations will not be able to generate the expected results out of this initiative. The key to any successful implementation is to follow a collaborative approach amongst IT and Business, enabling the merger between technology and business goals.
3. Architectural Blueprint
Once the business goals are defined and the method to measure ROI is clear, it is critical to lay down the architectural blueprint that will best support the generation of expected results. Correct, Clean, Complete and Compliant Business data are key success factors of any BI implementation program. Thus, the architecture should evolve around collection, centralization, cleaning and converting this data into reliable, integrated, secured, available and usable business information. To achieve this, a holistic approach towards architecture foundation needs to be taken considering various parameters covering aspects such as:
Data Management – Centralization/Decentralization, Data Modelling, Metadata Management, Data Quality, Data Lineage, Data Availability, etc.
Hardware – Data sizing, Performance, Scalability, Cost, etc.
Software Tools for Data Integration, Scheduling, Reporting & Analytics – Data sizing, Performance, Analytical Capabilities, Licensing Cost, etc.
This kind of architectural blueprint will help organizations envision the progress of its BI initiative from its establishment to its maturity over a period of time.
4. One Step at a Time
Achieving quick results is no simple feat. Move step-by-step. The architectural road map must systematically be supported by having the right business analysts, technical architects and suitable BI tools along with well-established governance structure, policies, management processes & practices with assigned ownership and accountability. Taking one step at a time also provides the opportunity to learn from mistakes and bring in improvements. For every part of BI architecture, be it data integration, data quality, metadata management, reporting or analytics, it is recommended to create prototypes aligning to smaller business objectives. Then once implemented; extending it further. This kind of BI framework introduces agility and scalability throughout the BI implementation program.
5. BI Value Assessment & Amendment
Measuring the ROI at every milestone defined in the strategy will help keeping the BI initiative lean, focused on cost efficiencies and identifying improvements in terms of technology upgrades, migrations or adoptions and benefits. With the assessment factor built-in, the BI strategy supports identifying roadblocks and taking corrective measures. At the same time it provides opportunity to make amendments to the strategy itself to align or re-align to the changing business needs maximizing ROI.
Conclusion
BI Implementations can be costly and unpredictable sans experience of implementation. It is the experience which brings in a pragmatic roadmap that caters to business and technology keeping the 5 keys always in focus for a solution to work as well on day 100 as it did on day 1. Bitwise has worked on very large to medium scale BI deployments building some of its most complex solutions which it brings in as proven Reference Designs that help projects fall into a quadrant of success.
Do start a conversation with us if you are looking at any initiative in BI within your organization, we would be more than glad to bring in our experience.
---
You Might Also Like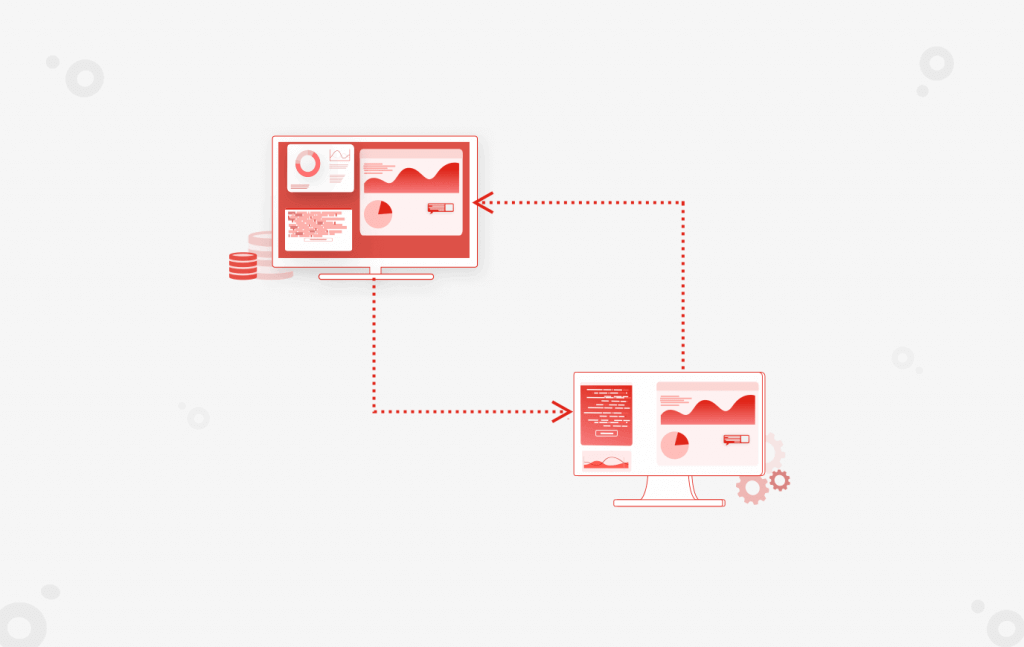 ETL Migration
Why Migrate from One ETL to Another ETL in 2021
Learn More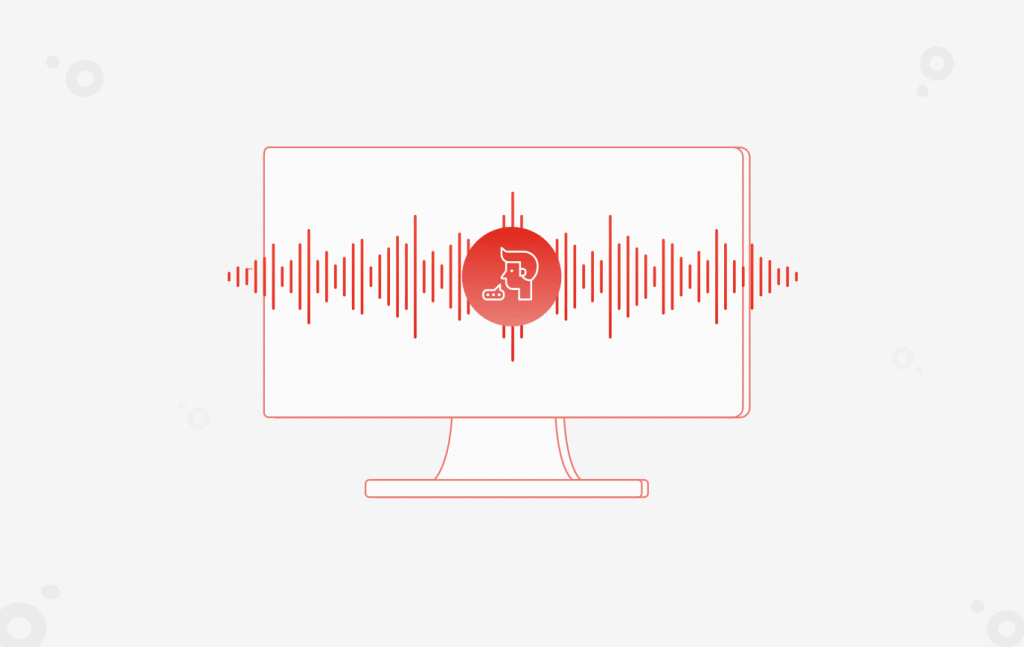 Data Analytics and AI
Conversational UI for Voice-Enabled Reporting
Learn More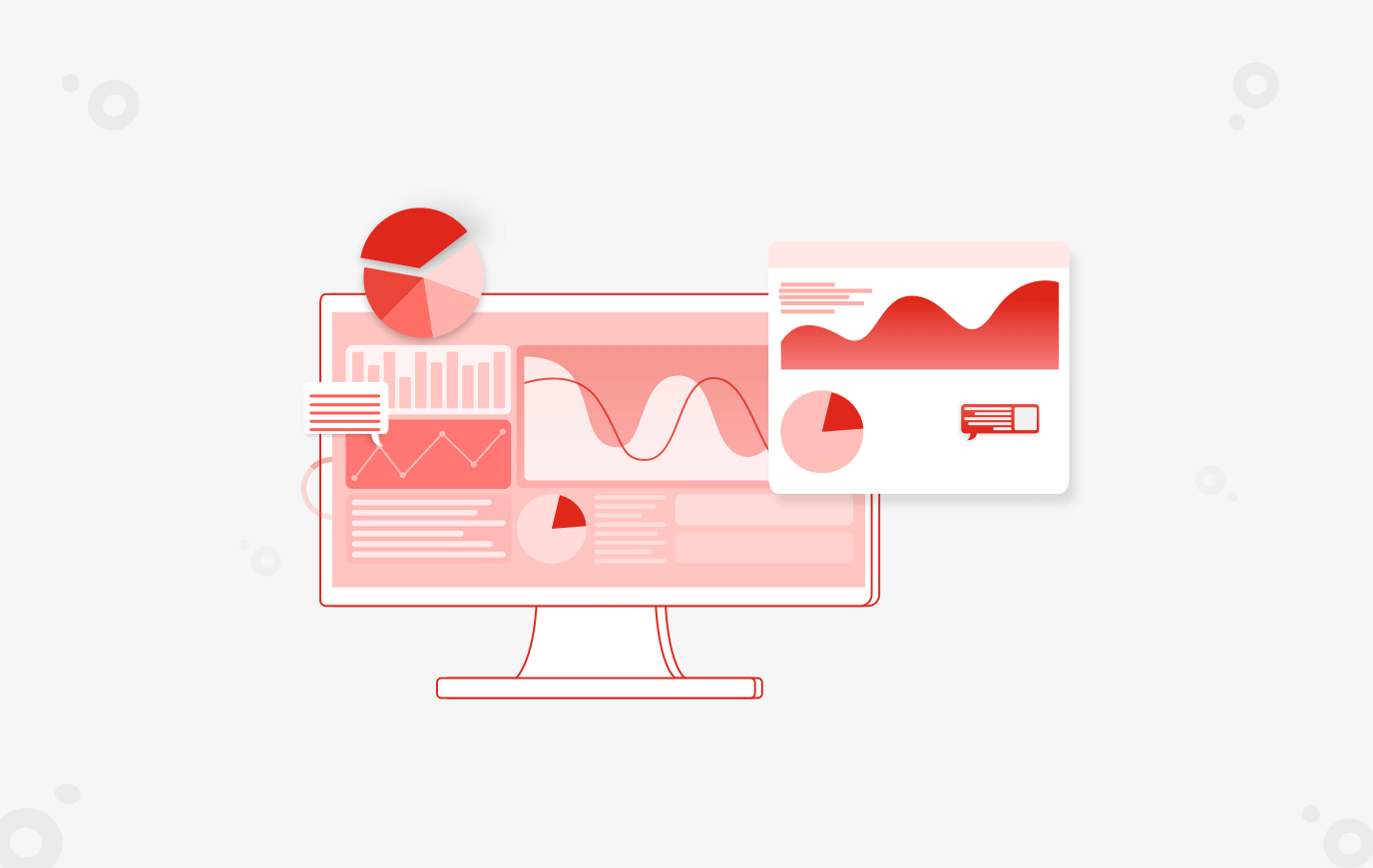 Data Analytics and AI
Power to the Users – Self-Service BI and Dashboards
Learn More