Helping our clients solve their most complex problems
I need help setting up standard QA practices for functional and mobile testing
I am losing business due to bad user experience on web applications
or devices
What it takes to successfully implement Functional and Mobile Testing
Focus on User Satisfaction
Confirm your software does exactly what it is designed to do
Detect and prevent defects early in the product lifecycle
Isolate potential quality problems to reduce time to resolution
Ensure that new features and enhancements do not have unintended consequences to existing software quality
Deliver a Seamless Mobile Experience
Build applications that are scalable and accessible across multiple platforms
Use end-to-end testing to ensure the application is downloadable effectively, works seamlessly and gives consistent experience across various devices
Avoid lack of testing accuracy when using emulators and simulators to imitate platform device testing
Correctly validate dynamically changing requirements and interfaces
Address Gaps in Automation
Ensure your applications perform in every conceivable scenario, platform, device and environment
Test visual considerations like gestures, image color, videos or user experience which cannot be addressed by automated tools
Handle testing of unstable applications and environments where automation is ineffective
Validate that automated test scripts are properly tested
Optimizing Functional and Mobile Testing with Bitwise
Combined with industry-standard tools, pre-built test accelerators and Agile test processes, we deliver the most effective functional and mobile testing capabilities
Proven QA Testing Experts
Leveraging a proven methodology, we have the flexibility to use industry standard products and platforms as well as our proprietary tools.
Full-Scale Offerings
We apply the necessary expertise, solutions, technology, and set of best practices to test every aspect of your software products.

Accelerated Methodology
As experts in Agile methodology who are proficient with Agile and DevOps Testing, we have mastered the art of continuous testing and engaging test automation at each phase.

Technology Leadership
Through our QA Center of Excellence, we train our resources on all aspects of automation and continuously work on evolving QA processes and best practices.
Bitwise Functional and Mobile Testing Approach
Bitwise helps leading brands to meet application performance expectations and quality by leveraging a standard approach comprised of best QA practices, uncompromised security standards, proven test strategies and methodologies backed by domain experts.
Solution Approach

Product domain experts who can decide the appropriate comprehensive test strategy

Test extensively from a human perspective at the module/component level and integration level

Cross platform capability for Web, Desktop, Mobile and Integrated system testing

Supports integration with Test Link to manage test scenarios

Focus on finding innovative ways to reduce time-to-market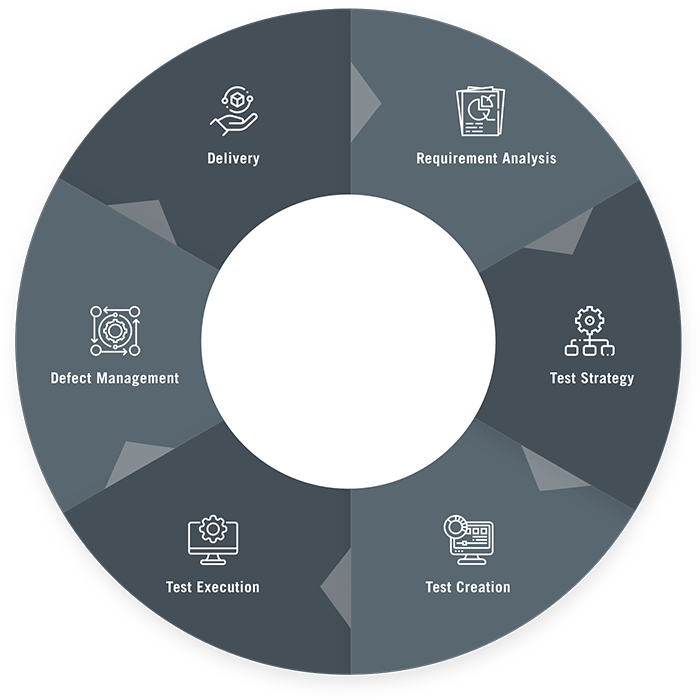 Advantages of Bitwise Functional and Mobile Testing Approach
Early feedback, quality and on time delivery with each iteration
Our testing experts work directly with your team to create an end-to-end process
Support for Agile and Shift-left testing methodologies
Ensuring secure online existence of applications under test
Improved release quality and help to build stable products
Daily reporting and weekly budget watch initiatives
Comprehensive final project report
Need to update your testing solution?
Contact us to discuss your requirement
Bitwise provides comprehensive solutions for all your data projects
QA Testing Solutions
API Automation Testing
Fast paced Agile teams focused on multiple API builds to deliver a quality product demand highly automated test cycles with quick, accurate results.
EXPLORE
Digital and Application Development Solutions
Web and Mobile Application Development
Strategically build and leverage digital technologies to boost business results and user experiences.
EXPLORE
QA Testing Solutions
Web Automation Testing
Implement the best web automation testing framework that results in higher quality web-based applications with reduced testing effort and cost.
EXPLORE
Ready to start a conversation?