Restaurants & Hospitality
Create enhanced digital customer experiences and drive engagement through interactive mobile apps and advanced analytics capabilities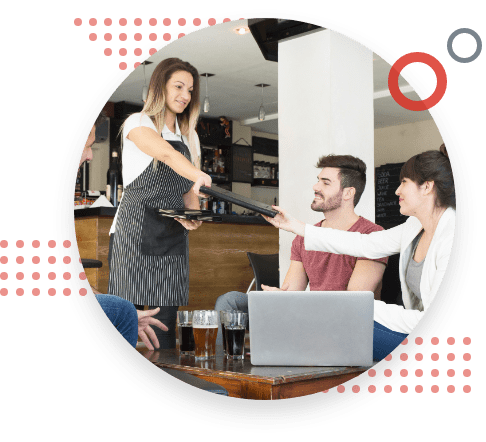 Innovative Solutions To Restaurant And Hospitality Challenges
The ability to make effective use of large volumes and variety of valuable marketing data like customer reviews can be an overwhelming challenge for many restaurant and hospitality companies. Moving to the cloud can open opportunities to better leverage unstructured data sets such as customer experience data for making key decisions and reducing costs of maintaining outdated data ecosystems. Ensuring proper data quality and data security is critical for accommodation and food-services businesses to build trust with their customers and minimize PCI compliance risk.
Restaurants and Hospitality Solutions

Mobile Order Management System
Enhanced digital customer experience for mobile order options like ordering from table, order ahead for dine-in, order for pickup or doorstep delivery

Order Wait Time Prediction
Machine learning solution to provide a better customer experience by predicting how long guests will have to wait for their order to be served

Data Warehouse Modernization
Migrate legacy ETL and data to the cloud to efficiently ingest, process and analyze a wide variety of data sets

Customer Analytics
Range of solutions from Customer 360 to Recommendation Engines to drive revenue growth through digital engagement.
Case Study
Predicting Order Wait Time using Machine Learning
In order to provide a better customer experience, one of the world's largest full-service dining companies required a solution that leverages machine learning to predict how long customers will have to wait for their order to be served.
Related Solutions
Application Modernization
Modernize Your Application On The Cloud
We continuously research emerging technologies and practices to help our clients leverage the latest and most reliable tools when modernizing their applications
Explore
Data Warehouse and Business Intelligence
On-premise, Cloud And Hybrid Solutions
Modernize and transform Enterprise Data Warehouse reporting systems to become more competitive for meeting today's business challenges
Explore
Web and Mobile
Digital And Application Development Solutions
Strategically build and leverage digital technologies to boost business results and user experiences
Explore