Helping our clients solve their most complex problems
I want to improve the performance of my application to maintain a competitive advantage
What it takes to successfully implement Performance Testing
Optimize Performance
Measure the speed, accuracy and stability of software being used by your business.
Enable rapid building of test cases and show benefits early in the process
Build robust, distributed performance test suites that simulate realistic user loads to identify and remove bottlenecks before the application is made live
Control Costs
Reduce development expenses and avoid license costs.
Exploit widely used open source tools such as JMeter, BeanShell Scripting and Fiddler Debugging Proxy for cost-effective testing
Use a highly customizable solution that offers ease of scalability and enhancements
Deliver on User Experience
Proper planning and execution of performance testing plays a key role in the success of an application.
Increase confidence by improving application performance and quality
Ensure reliability of critical applications in combination with advancements in application design
Implementing Performance Testing with Bitwise
Guarantee better output, eliminate delays and reduce recurring development expenses during load and stress testing.
Proven QA Testing Experts
Leveraging a proven methodology, we have the flexibility to use industry standard products and platforms as well as our proprietary tools.
Full-Scale Offerings
We apply the necessary expertise, solutions, technology, and set of best practices to test every aspect of your software products.

Accelerated Methodology
As experts in Agile methodology who are proficient with Agile and DevOps Testing, we have mastered the art of continuous testing and engaging test automation at each phase.

Technology Leadership
Through our QA Center of Excellence, we train our resources on all aspects of automation and continuously work on evolving QA processes and best practices.
Bitwise Performance Testing Automation Solution
At Bitwise, we understand the challenges of performance testing and the drive to deliver faster and with less cost. We leverage performance test automation practices using the open source performance testing tool JMeter to provide a solution that offers cost-effective and convenient load testing, makes it possible to run multiple protocol scripts, and is readily pluggable in CI/CD and DevOps pipelines to support highly automated environments.
Solution Approach

Design test cases

Research and finalize cloud server

Leverage cloud servers and generate load

Perform test execution

Monitor results provided by the server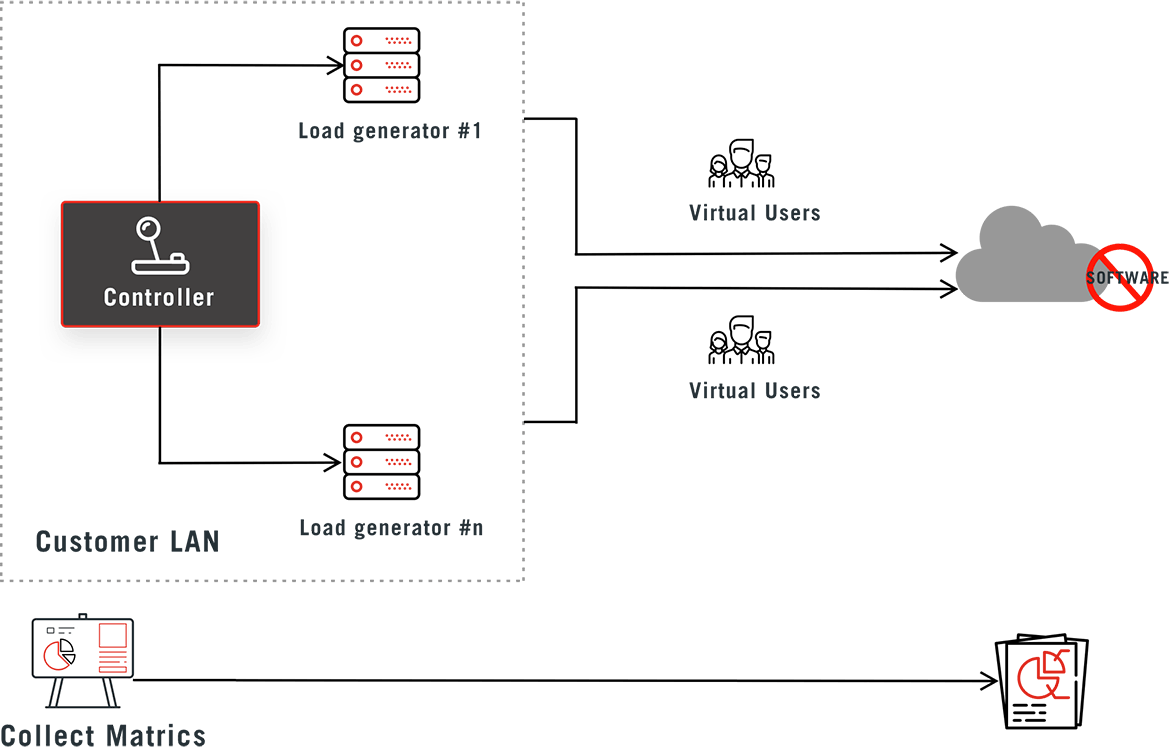 Advantages of Bitwise Performance Testing Automation Solution
Delivers a stable system into production and eliminates bottlenecks
Supports on-premise and cloud implementations
Provides early feedback which helps with capacity management
Easily pluggable in CI/CD and DevOps pipelines to accelerate performance testing
Bitwise Solution supports all types of test automation and protocols
Ready to accelerate performance testing?
Contact us to discuss your requirement
Bitwise provides comprehensive solutions for all your data projects
Cloud Solution
Application Modernization
We continuously research emerging technologies and practices to help our clients leverage the latest and most reliable tools when modernizing their applications
EXPLORE
QA and Testing Solutions
Functional & Mobile Testing
Guarantee confidence that you are delivering the right product that is built correctly
EXPLORE
Digital and Application Development Solutions
DevOps
Achieve speed and agility through continuous software delivery
EXPLORE
Ready to start a conversation?