Helping our clients solve their most complex problems

Modern data volumes and analytics needs have led us to a Hadoop/NoSQL solution, but we could use some help navigating through it.
How to accelerate your big data initiatives on Hadoop and NoSQL.
Ensure your infrastructure meets enterprise data demands
Implement an agile and scalable platform on premise or on the cloud.
Consider and address common complex big data infrastructure challenges like archival, disaster recovery, backup/restore, search, upgrade, migration and more.
Big Data Infrastructure experts can help manage the complexity of planning, procuring, building and securing your On-Premise or Cloud big data platform.
Bitwise experts have extensive experience in architecting, building, deploying and supporting robust, open source Hadoop and NoSQL ecosystems that can be scaled to meet your data needs.
Develop a robust support ecosystem
Remain assured that your Hadoop cluster or NoSQL database is operating at peak performance.
Establish a team with extensive experience in administering and maintaining the complex combination of software, hardware and network that comprise your big data platform.
Guarantee operational support that is ready and available whenever issues arise with your big data platform or application, whether running On-Premise or Cloud.
Continually look to optimize and improve the performance of your environment, leveraging both community and proprietary tools and best practices.
Benefit from a Bitwise comprehensive Hadoop and NoSQL Managed Services package to help you meet your big data administration and support requirements.
Deliver Value
Channel the potential of Big Data into Delivering Value for your Business
Develop and implement a big data strategy for quickly leveraging open source tools such as Hadoop and NoSQL to deliver value across the enterprise.
Bitwise delivery teams can support you through the entire development lifecycle (from use case discovery to production implementation) and provide sustainable services to help you achieve your long term BI and analytics goals.
Leveraging Hadoop and NoSQL with Bitwise
Optimal big data solutions combined with infrastructure, support and managed services to optimize your Hadoop or NoSQL ecosystem.

Proven Hadoop and NoSQL Experts
Bitwise has worked with the world's leading enterprises to help them maximize business value through their big data systems.

Full-Scale Offerings
Bitwise offers fully customizable, end-to-end solutions for big data infrastructure set-up, support and analytics using open source Hadoop and NoSQL tools and technologies.

Accelerated Methodology
Our proven methodologies, best practices, unique data tools and experienced resources make us the best strategic partner to accelerate your big data and Cloud initiatives.

Technology Leadership
We design and build relevant business cases, customize big data programs and develop long term strategy to meet current and future analytics needs.
End-to-End Hadoop and NoSQL Suite of Solutions
Bitwise delivers value not only through our experience in designing, building and supporting big data platforms, but also in helping customers derive real value from the environments.
The Bitwise Big Data Center of Excellence provides technical expertise in optimizing Big Data tools for reliable production workloads.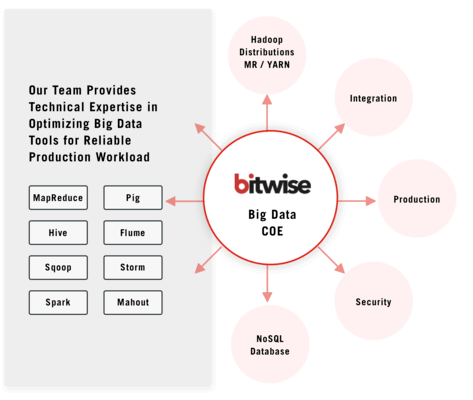 Need to get your big data project on track?
Contact us to discuss your Hadoop or NoSQL requirement

Hadoop or noSQL Administration and Support
Database administration, configuration, support, backup and recovery
Database connectivity and security
24x7x365 monitoring, operation and administration of all covered nodes
Active/Automated remote assistance and remediation
Define standard escalation process for notification and resolution
Performance monitoring and tuning
Data backup (as per existing Data Governance Policy)
All tasks completed per industry standard best practices
Weekly and Monthly Reports (Incident, Availability and Performance)
DOWNLOAD PDF

Centralizing Enterprise Data & Analytics
Bitwise helps companies maintain a competitive edge by centralizing data and analytics to solve complex problems across their organization
Enterprise Data Hub / Data Lake
Reduce traditional enterprise data warehouse (EDW) costs and improve performance
Store and process all your data in one place
Run multiple transformation jobs and deliver information to multiple systems
Enable faster analytics and data access for business users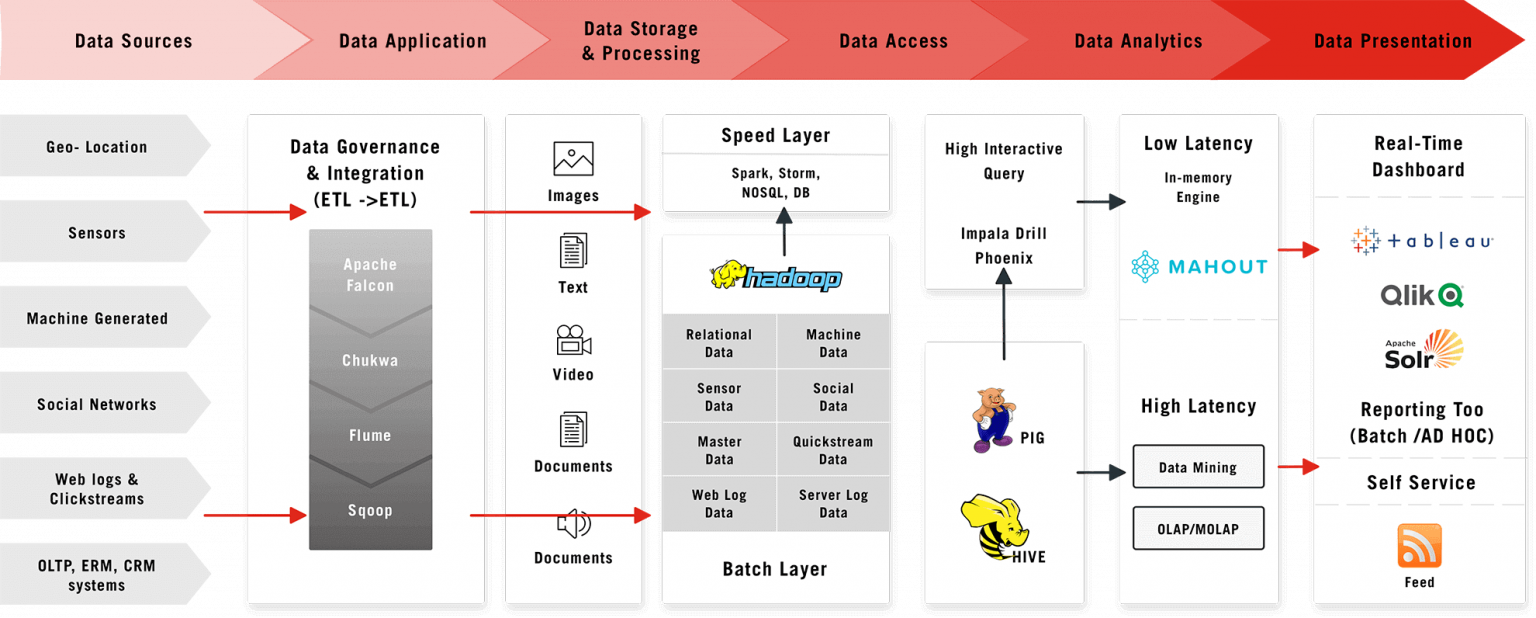 SEE LARGER VIEW OF DIAGRAM
Can't find your Use Case?
On-Demand Webinar
ETL Migration to AWS Glue Simplified
Organizations on a digital transformation journey are modernizing core..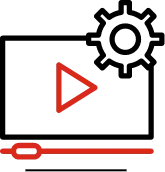 Bitwise provides comprehensive solutions for all your data projects
Data and Analytics Solutions
Big Data Analytics and data science
Uniquely positioned to help our clients utilize machine learning and artificial intelligence to achieve business results.
EXPLORE
Data and Analytics Solutions
Data Warehouse and Business Intelligence
Modernize and transform Enterprise Data Warehouse reporting systems to become more competitive for meeting today's business challenges
EXPLORE
Data and Analytics Solutions
Application Modernization
We continuously research emerging technologies and practices to help our clients leverage the latest and most reliable tools when modernizing their applications
EXPLORE
Ready to start a conversation?