Helping our clients solve their most complex problems

Modern data volumes and analytics needs have led us to a Hadoop/NoSQL solution, but we could use some help navigating through it.
How to accelerate your big data initiatives on Hadoop and NoSQL.
Ensure your infrastructure meets enterprise data demands
Implement an agile and scalable platform on premise or on the cloud.
Develop a robust support ecosystem
Remain assured that your Hadoop cluster or NoSQL database is operating at peak performance.
Deliver Value
Channel the potential of Big Data into Delivering Value for your Business
Leveraging Hadoop and NoSQL with Bitwise
Optimal big data solutions combined with infrastructure, support and managed services to optimize your Hadoop or NoSQL ecosystem. 
Proven Hadoop and NoSQL Experts
Bitwise has worked with the world's leading enterprises to help them maximize business value through their big data systems.
Full-Scale Offerings
Bitwise offers fully customizable, end-to-end solutions for big data infrastructure set-up, support and analytics using open source Hadoop and NoSQL tools and technologies.
Accelerated Methodology
Our proven methodologies, best practices, unique data tools and experienced resources make us the best strategic partner to accelerate your big data and Cloud initiatives.
Technology Leadership
We design and build relevant business cases, customize big data programs and develop long term strategy to meet current and future analytics needs.
End-to-End Hadoop and NoSQL Suite of Solutions
Bitwise delivers value not only through our experience in designing, building and supporting big data platforms, but also in helping customers derive real value from the environments.  
The Bitwise Big Data Center of Excellence provides technical expertise in optimizing Big Data tools for reliable production workloads. 
Need to get your big data project on track?
Contact us to discuss your Hadoop or NoSQL requirement
Hadoop or noSQL Administration and Support
Centralizing Enterprise Data & Analytics
Bitwise helps companies maintain a competitive edge by centralizing data and analytics to solve complex problems across their organization
Enterprise Data Hub / Data Lake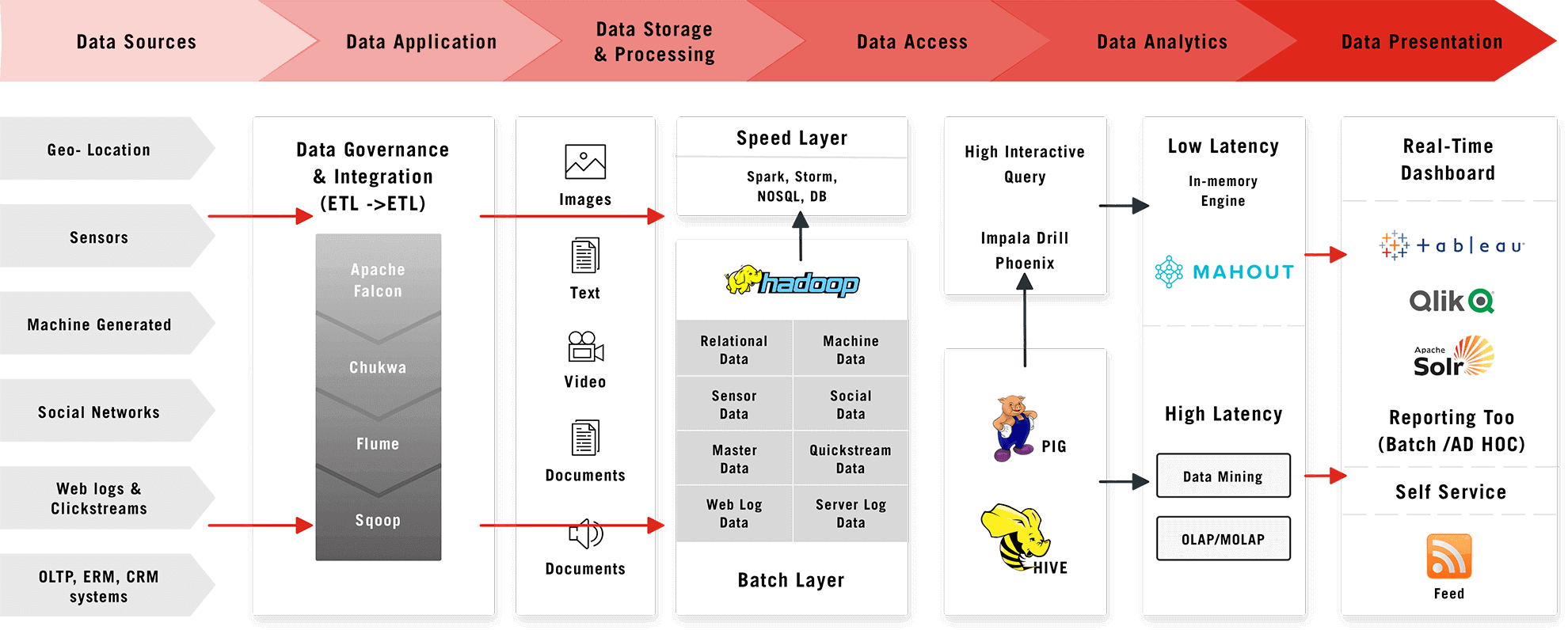 Can't find your Use Case?
Bitwise provides comprehensive solutions for all your data projects
Data and Analytics Solutions
Big Data Analytics and data science
Uniquely positioned to help our clients utilize machine learning and artificial intelligence to achieve business results.
Data and Analytics Solutions
Data Warehouse and Business Intelligence
Modernize and transform Enterprise Data Warehouse reporting systems to become more competitive for meeting today's business challenges
Data and Analytics Solutions
Application Modernization
We continuously research emerging technologies and practices to help our clients leverage the latest and most reliable tools when modernizing their applications
Ready to start a conversation?