Helping our clients solve their most complex problems
Our current ETL tool isn't working for us anymore, but there's no easy way to migrate to our tool new tool of choice
Our org has multiple ETL tools in play… I need an efficient way to move to a single ETL tool strategy
What does it take to successfully migrate to a new ETL tool?
Present a Business Case
Develop a thorough business case for ETL migration budget approval
Use Bitwise's proprietary STIMA tool to assess the current environment including a detailed analysis of complexities and risks, complete inventory listing for jobs and their components, number of premium CPUs, and number of user licenses.
Develop a business case based on total cost of ownership (TCO) assessment to identify potential savings from migration and POC for converting source ETL jobs to target tools.
Provide a conversion roadmap prioritized by subject areas with timeline based on the estimated level of automation.
Conversion with Maximum Automation
Risk-free conversion and optimization of source ETL jobs to target tool using maximum automation
Utilize Bitwise's proven migration methodology and expertise in source and target ETL tools through our Data Integration Center of Excellence and proprietary ETL converter accelerator.
Rather than using a 'big bang' approach, iterate groups of 100-250 jobs at a time using Agile methodology.
Unit Testing for Production Readiness
Fully unit tested code ready for production implementation is key to success
Using an iterative approach allows you to maintain quality control and performance-tune the ETL conversion accelerator to optimize automation.
To accelerate the validation process, utilize Bitwise's ETL Testing Automation tool called QualiDI, which can reduce up to 70% of the testing effort.
With QualiDI we can ensure fully unit tested ETLs that Bitwise can implement in the production environment or hand off to your current system integration vendor.
EXPLORE QUALIDI
Migrating from Any ETL to Any ETL with Bitwise
Achieve the maximum level of automation possible
Proven Automated ETL Migration Experts
Bitwise has helped some of the world's largest enterprises migrate their ETLs with maximum automation.
Full-Scale Offerings
We automate conversion from any data integration platform (including Ab Initio and PL/SQL) to any other platform.

Accelerated Methodology
Bitwise offers automation in every phase – from assessment to conversion to validation.

Technology Leadership
The ETL Conversion accelerator was developed from addressing real customer problems. Bitwise is always looking for ways to do things better, faster and more efficiently.
Key Benefits
Automate ETL migration from one system to another
Merge two distinct systems into one
Migrate ETL code in disparate systems across platforms with minimal manual effort
Bring data integration platform standardization
Upgrade to newer versions of data integration platforms
Improve developer productivity and vastly reduce coding effort
Ready to automate your ETL Migration?
Contact us to discuss your requirement
Bitwise Automated ETL Migration Framework
Built on two decades of extensive experience across all major data integration platforms, our proprietary ETL Conversion Automation Engine is based on a proven and repeatable framework. Our solution works with all leading ETL tools including Ab Initio, DataStage, SSIS, Talend, Informatica, PL/SQL, T-SQL and cloud ETL tools like Azure Data Factory and AWS Glue for any migration requirement.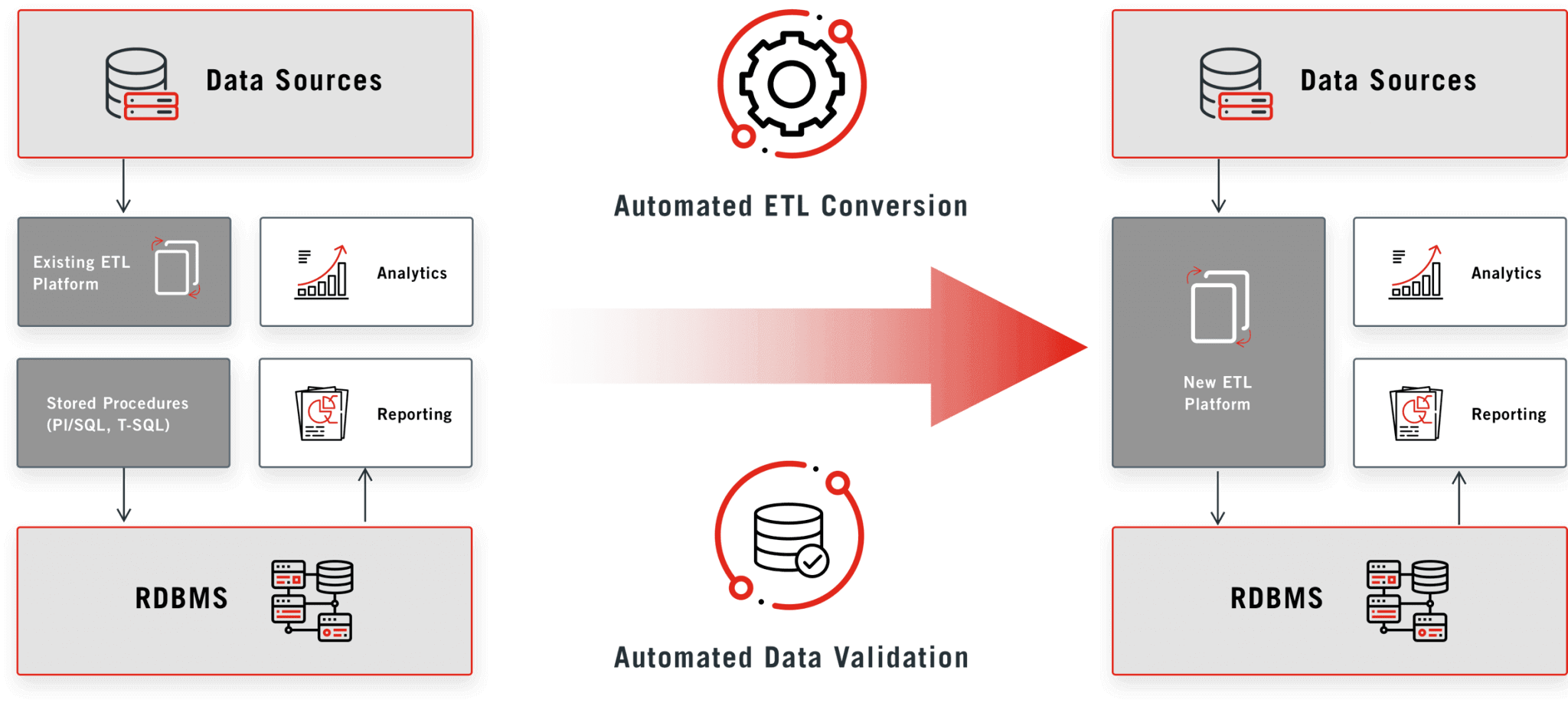 Advantages Of Bitwise Automated ETL Migration Framework
Up to
60%
Time Reduction during Assessment Phase
Up to
70%
Touch-Free Conversion
Up to
40%
Increase in Developer Productivity
Up to
30%
Effort Savings in Data Validation
Up to
75% – 90%
Effort Saved for Test Compliance Reports
Accelerate Your ETL Migration Initiative
ETL Converter
When migrating a data warehouse to the cloud, having the right solution to efficiently migrate your on-premise ETL can play a significant role in the success of your migration initiative. Our Automated ETL Migration solution leverages the automation capabilities of our ETL Converter product to provide optimal conversion of legacy ETL to modern cloud-based ETL/ELT tools.

Moving from Multiple ETLs to a Single ETL Strategy
Many of our clients have gone through major mergers and/or acquisitions with other companies, leading them to have multiple different types of ETLs and tools running at once. We help them consolidate to a single ETL strategy with maximum automation.

Cut Costs Tied to Legacy ETL Tools
Costs related to maintaining legacy ETL such as PL SQL and Ab Initio can quickly add up – migrating to a more cost-efficient ETL Strategy through maximum automation can help relieve some of that burden
Can't find your Use Case?
On-Demand Webinar
ETL Migration to AWS Glue Simplified
Organizations on a digital transformation journey are modernizing core…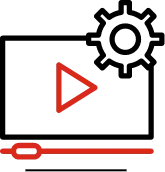 Bitwise provides comprehensive solutions for all your data projects
Products
Hydrograph
Hydrograph is a GUI-based ETL tool built to efficiently process big data workloads on premise or on the cloud without needing to write MapReduce/Spark code.
EXPLORE
Products
QualiDI
QualiDI is an ETL Test Automation tool providing an enterprise-wide, end-to-end platform for centralizing testing of one or more ETL tools.
EXPLORE
Data and Analytics Solutions
Data Warehouse and Business Intelligence
Modernize and transform Enterprise Data Warehouse reporting systems to become more competitive for meeting today's business challenges
EXPLORE
Ready to start a conversation?