Let's take a closer look at how automated PL/SQL conversion works
When converting PL/SQL to a data integration platform, such as Informatica or Talend, Bitwise uses the following steps:
Step 1: Feed PL/SQL script and Database Schema
Step 2: PL/SQL script analyzer parses the script and creates a) Visual Workflow and b) Mapping Document
Step 3: Update the mapping document for optimization as per target ETL tool
Step 4: Feed mapping document to Automated ETL conversion tool
Step 5: Import the converted script in ETL tool and make manual changes (as per non-converted code highlighted in the conversion report)
Step 6: Testing and Validation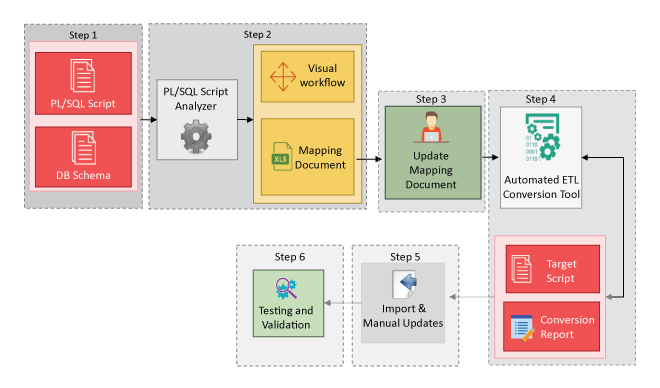 When performing a PL/SQL migration, Bitwise uses a phased approach starting with an Assessment phase to accurately scope the conversion timeline and effort, which is followed by iterations of each phase of conversion.

The level of automated conversion depends on how the PL/SQL code is designed and structured. During the Assessment phase, Bitwise performs a thorough analysis of the code base. The Bitwise team derives the percentage of conversion that can be automated based on the analytics from the Assessment phase. With phased migration, new patterns of conversion are identified at the end of each iteration, which allows the team to recalibrate the tool configuration to increase the level of automation.
The result for the customer is a completely tested code on a new-age ETL tool – within a fixed cost and fixed timeline!
Top 8 reasons to consider an automated PL/SQL conversion service
Organizations running a data integration solution built with PL/SQL have a difficult decision: do nothing and continue running the application as is; or painstakingly migrate the code manually. When compared to these options, it is easy to see the advantage of an automated PL/SQL conversion solution. Here are eight specific benefits to consider:
Visual analysis of PL/SQL
Automated Mapping Document
Flexibility to configure the tool for custom code
Detailed conversion report
Hassle-free, completely tested target ETL code
Improved time-to-market with phased conversion approach
Inventory clean up
In build, best practice, standardization
To make the PL/SQL migration process even easier, Bitwise partners with leading data integration vendors to offer a seamless automated ETL conversion solution with your platform of choice.

Excitement for PL/SQL conversion builds at Informatica World
Earlier this year, we showcased our automated PL/SQL conversion solution to the data community at Informatica World 2017. If you missed us at the event, catch the updates in our Good Bits from Bitwise newsletter article PL/SQL Conversion Excites at Informatica World.