An Automated Approach to Migrating PL/SQL to Informatica
How do we do this? First, we use our automated PL/SQL Script Analyzer to create a visualized Workflow Document that helps to easily understand the code and quickly generate a Mapping Document. Once the Mapping Document has been validated, we can plug the file into our automated ETL Conversion Engine, which re-engineers the PL/SQL to the target ETL. Upon completion, a Conversion Report shows that the process was completed successfully.
Sounds pretty cool? Hundreds of data professionals at Informatica World 2017 thought so, too. If you didn't get a chance to stop at our booth, or if you were unable to attend the event, don't worry – we have a recorded webinar on An Automated Approach to Migrating PL/SQL to Informatica that will walk you through the whole process in under 30 minutes.
Take comfort in knowing that standing by and letting your PL/SQL programs fade into obsolescence, or taking the labor intensive path of migrating manually are no longer your only options.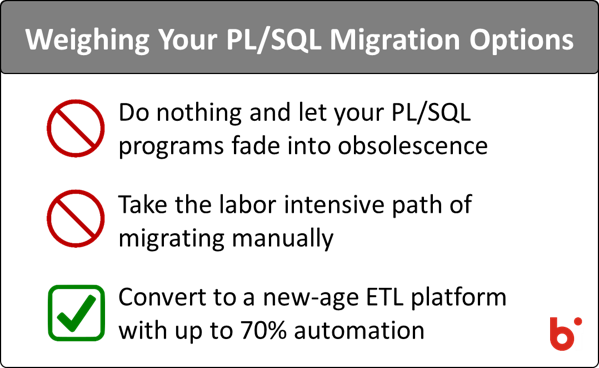 Looking for more information on ETL Conversion? Check out this LinkedIn article, Automated Migration of ETL Solutions, by Rick van der Lans, Analyst/Owner at R20/Consultancy for a brief analysis of the ETL migration challenge.