Reducing Test Cycle
In order to survive today's fierce competition, there is a constant and pressing need for speed, especially when it comes to data testing. In the past, the reduction of test-cycle time often has come with the reduction in data quality, but this doesn't have to be the case.
Increase Efficiency, Ensure Quality:
QualiDI's balanced approach helps testing teams save valuable time and ensure quality. Its ability to interface with leading Defect Management tools in the market as well as automating all aspects of Data Management, enables QualiDI to lead the market in offering a dynamic and complete toolset. In it, test cases are stored in a central repository that can be utilized for multiple environments (Development, Testing, and Stage) ensuring consistency across environments, and achieving up-to-85% faster test case execution. QualiDI's exceptional level of efficiency directly enables:
Allowing for tester-independent queries and increased tester productivity through the help
of automation
Ensuring testing completeness by including all dependent objects for testing
Increasing testing effectiveness and significant cost optimization in the testing cycle
Easy access to pre-defined Dashboards and Reports on Test Cycle Management
Cost benefits of up to 30% in test case writing
QualiDI creates test cases by mapping all source columns with target table columns. For indirect mappings, it uses business rules to create test cases (direct mapping is usually 80% of the total mapping, utilizing the tool to the maximum). QualiDI also allows the importing of any pre-defined queries. Similarly, test data is also created using referential integrity and business rules. Test data creation and cleanup is simply a click of a button.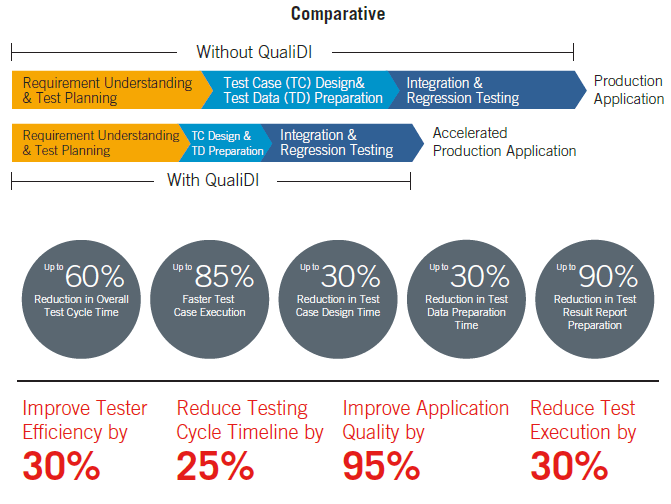 Key Benefits:
Testing teams can realize significant gains in speed and efficiency by using QualiDI, yielding a direct cost benefit. For example, some recent measured results include the following:
When comparing data, creating and showing results is 200 times faster than the manual process
QualiDI ensures 100% test coverage, helps to keep shorter testing cycle
Savings of about 20% for efforts spent on Test Data Management
Reduces 60% of the cost required for manual testing
You can download the detailed PDF version of this use case here.