As a technology-forward firm, we take pride in leveraging breakthrough innovations in technology to help our global clients maximize their competitive advantage. We at Bitwise believe that delivering a great customer experience starts with an inclusive employee experience. Our excellent work culture has ensured a collection of the industry's most experienced and dedicated team of data professionals poised to architect the future of work across various sectors.
Our high-trust workplace has earned Great Place to Work® Certification, a testimony to our efforts for creating a passionate and satisfied workforce. Great Place to Work® is the only recognition based entirely on what employees report about their workplace experience – specifically, how consistently they experience a high-trust workplace.
The certification provided by Great Place to Work®, a global authority on workplace culture, is the most definitive "Employer of Choice" recognition companies aspire to achieve. It is the global benchmark for identifying and recognizing outstanding employee experience. Every year, more than 10,000 companies across 60 countries apply to get Great Place to Work certified. We are proud and honoured that our employees drove us to this achievement.
What to Explore
Bitwise – Truly A Great Place to Work
At Bitwise, People come first. In fact, they are everything, the heart and soul of our organization. Our open culture means that we tackle challenges side-by-side and learn from each other irrespective of the hierarchy. A culture that promotes an ownership attitude rather than an employee attitude, a culture that thrives on synergies and teamwork to attain organizational goals while enabling individuals also to achieve personal goals.
Our employee-centric policies go hand-in-hand with our customer-focused work culture that defines our success. We optimize value for our clients through a global delivery model supplemented by proprietary technology tools that reduce the time, complexity, and cost of data initiatives. A synergy of efficient technology and motivated employees enable us to provide critical insights to clients to continue their lead in the respective fields.
Visit our Careers page to see more on what makes Bitwise a great place to work and hear how Bitwisers have found their place in our organization.
Behind the Great Place to Work Certification
Great companies are architected by happy employees. Besides, a company cannot be customer-centric unless it is employee-centric. Our success is highly attributed to our work culture that nurtures employees and motivates them to give their best for each client's success. According to a Great Place to Work survey, 89% of employees at Bitwise say it's a great place to work compared to 57% of employees at a typical US-based company.
89% of the employees at Bitwise proudly own their work. They appreciate the lack of micro-management and feel more responsible as the management trusts them to do an excellent job without watching over their shoulders.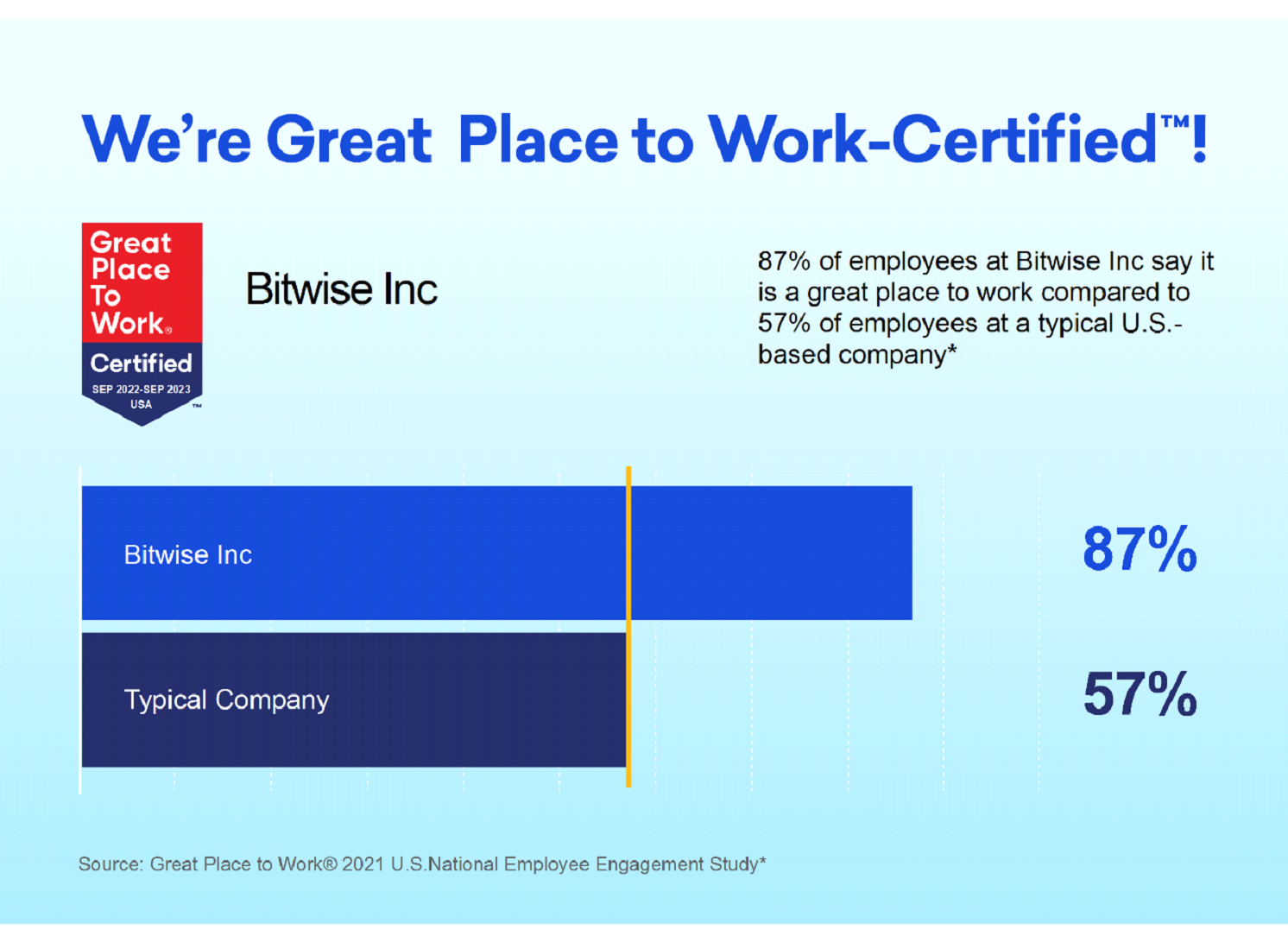 As a company, we strongly believe in empathy and compassion. We encourage our employees to support each other and work together as a team in a high-performing environment. By giving each employee suitable opportunities to grow professionally and personally, we encourage them to compete against themselves and work better each day to increase the team's overall productivity.
Work-life balance is another factor that employers overlook and contributes majorly to burnout. At Bitwise, we aim to be different by trusting our employees to choose when to take a day off. In the survey mentioned above, Bitwise employees reported they could take a day off whenever they felt necessary without being questioned or facing any adverse consequences. They also find the general working environment and the facilities provided by the employer to add to their productivity.
You can explore the open positions at Bitwise for an exciting career in an innovative and equitable workplace.
Going above and beyond to care for employees, community and the environment
Compassion and Mutual Respect are two of our seven core values which were emphatically pronounced during the previous year where we witnessed an unprecedented change in the way we work and live. Focus on employee wellbeing has been a critical priority for Bitwise since its inception in 1996.
The difference since mid-2020 has been the manner of execution which involved:
Ensuring the health and safety of our employees and their families
Continuous support for mental and emotional wellbeing
Giving back to our community through the Bitwise Foundation
Employee Health & Safety during the Pandemic
When the pandemic struck in 2020, there was a frantic scramble for life and business, both. However, we made our employees' health a number one priority over everything else. We initiated a Health & Wellness program on Microsoft Teams with regularly updated guidelines and pertinent information on physical, emotional, and psychological health.
Showing our solidarity for our employees and their families, we ensured a zero-termination policy based on loss of project work. We also introduced company-sponsored Yoga and mindfulness sessions for employees and their families to help them better manage stress in these difficult times.
For business continuity, we extended technology and infrastructure support to ensure all employees could work from the safety of their homes. Furthermore, paid time off and support were extended to any employee directly affected by the pandemic or had someone ailing in the family.
United We Stand
Bitwise leadership took the onus of continuous interaction through motivational and supportive messages for all our employees.
A weekly column #Standtogether was explicitly designed and executed as an avenue to connect and motivate employees through inspirational messaging.
We gathered continuous employee feedback on how we managed and what additional support was needed to improve the system as the situation unfolded. The unique situation demanded a unique approach. We allowed our employees to drive the direction of the support required.
On the business front, regular online coaching and training sessions for managers were organized to help them better engage with employees and develop a more robust understanding of the changing trends in employee needs and behaviour.
Giving Back to the Community
Giving back is embedded in our value of compassion. Through Bitwise Foundation, we launched different initiatives during the year to match dollar-to-dollar contributions made by employees toward COVID relief funds in the US and other nations which were in dire need of financial help to acquire necessary life-saving hospital aid.
Innovation-Centric Philosophy
At Bitwise, we believe in growing every day by constantly turning the wheels of innovation to build technology solutions that add more value to our customers while presenting our employees with opportunities to challenge conventional wisdom. Bitwisers' passion for innovation has propelled us to bring new thinking into solving the most difficult data warehouse challenges in the era of big data and cloud computing.
Automated ETL Migration fulfils a need to efficiently migrate legacy ETL to the cloud using our in-house built tools – Source ETL Analyzer, ETL Converter, ETL Validation Framework and Orchestration Framework – within a complete migration methodology. Our Cloud Data Migration framework provides an end-to-end solution using our in-house built Cloud Data Migration Tool, CDC Framework and Data Validation Framework to migrate on-premise data to the cloud with full security and accuracy.
We look forward to the future in the same vein and continue to pursue innovation and quality while providing an excellent experience for our customers.
The Path Ahead
Bitwise has always strived to create a holistic workplace that cares for its employees and nurtures their professional and personal growth. Receiving the Great Place to Work Certification indicates what our employees think of us. We will continue to exceed their expectations by providing them with a safe and rewarding workplace.
At Bitwise, our culture is a reflection of the people who work with us. If you feel excited about technology and wish to build a thriving career in helping businesses leverage technology to meet their objectives, we invite you to join our growing community of technology experts and enthusiasts. Explore our open positions or connect with us if you think you can add value to our team in any way.
Editor's Note: The blog was originally posted on November 2021 and recently updated on September 2023 for accuracy.
---